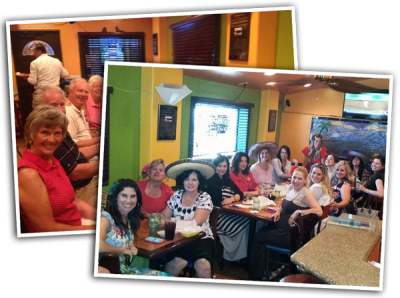 Whether your fiesta is large or small, you can count on exceptional quality and service year-round . . .Here the real spirit and taste of old Mexico turns a banquet into a fiesta every time. Available menus range from traditional Mexican cuisine to customized menus that fit your budgetary needs.

Book Your Fiesta Today
Whether you wish an intimate affair, a large holiday gathering, or a sports banquet, our trained staff will see to all the details, enabling you to enjoy the pleasure of your guests.

Casa Blanca's food and service is equally impressive. You will see that many options are available to you; from our delicious selections from our breakfast, lunch, dinner and banquet menus as well as appetizer selections and special orders. Our private banquet facility is perfect for any occasion, which accommodates a maximum of 20 to 70 persons. 
​

Banquets

Private Parties

Birthday Parties

Bachelor Parties

​

Baptisms Parties

Wedding Reservations

Divorce Parties



Company Reunions

And Much More